February 20, 2020 
There are some very important, major, fundamental rules that we are never taught. Some things are just innately understood — like curiosity, love, survival and — apparently — the order in which we place our adjectives.
Now, I'm the first to admit that my formal English education is severely lacking. I was in a French Immersion program starting in kindergarten so while I learned passé composé every year (seriously, every year) until I graduated high school, I didn't have a single grammar lesson in my native language.
And yet, I still did really well in school on writing assignments, and probably wouldn't have a university degree if it weren't for my ability to string words together in English. Just by reading and practising consistently, it all just sort of came into shape. 
Only a few things blew my mind when I started learning how to teach English as a foreign language. And the fact that there is a rule to how we order our goddamn, little, old adjectives was by far the one that got me the most.
So far with these blog posts, I've been trying to weave a narrative between my experience abroad and my inner challenges using grammar rules to inform the changes I need to make in my life. To be honest though, it's getting to be a little tiring and I don't have the energy right now. To surmise briefly, I got my Visa stamped so that I'm registered with the Foreign Police and I started working with one language school. I've only taught a few lessons and I'm not quite sure how I feel about it yet. I also started getting booked for online classes with kids from China and am applying to a bunch of jobs. And I'm super stressed about money right now. Mostly in terms of not having enough and wanting more. 
Okay? But why do I have to talk about myself so much when I'm in this amazing, big, ancient city.
So here's a list of my 5 favourite places in Prague that I can never remember the name of.
The hill with the Zizkov man where people go running 
This is definitely one of the best views in the city, but I feel pretty dumb when I call it 'the place with the Zizkov man, you know the guy on the big horse? It's like up on a hill sort of on the other side of the bus station…' It's actually called Vitkov Hill and it separates the Zizkov neighbourhood, where I live, from Karlin on the other side. The statue which faces towards Old Town and looks out at a beautiful, wide vista of Prague, is actually of Jan Zizka, a Hussite military leader and the namesake of the Zizkov district.
The sculpture is the third largest bronze equestrian statue in the world, a comically specific claim to fame. There's also a museum beside the statue and along the hill, you'll find a running track, an indoor beach volleyball facility and some fantastic lookout points. Cutting through the hill at the bottom is a walking tunnel that connects the two districts, which is one of my favourite walks in the city, a sentiment shared by few of my friends.
2. That church next to the place where we did some teaching practice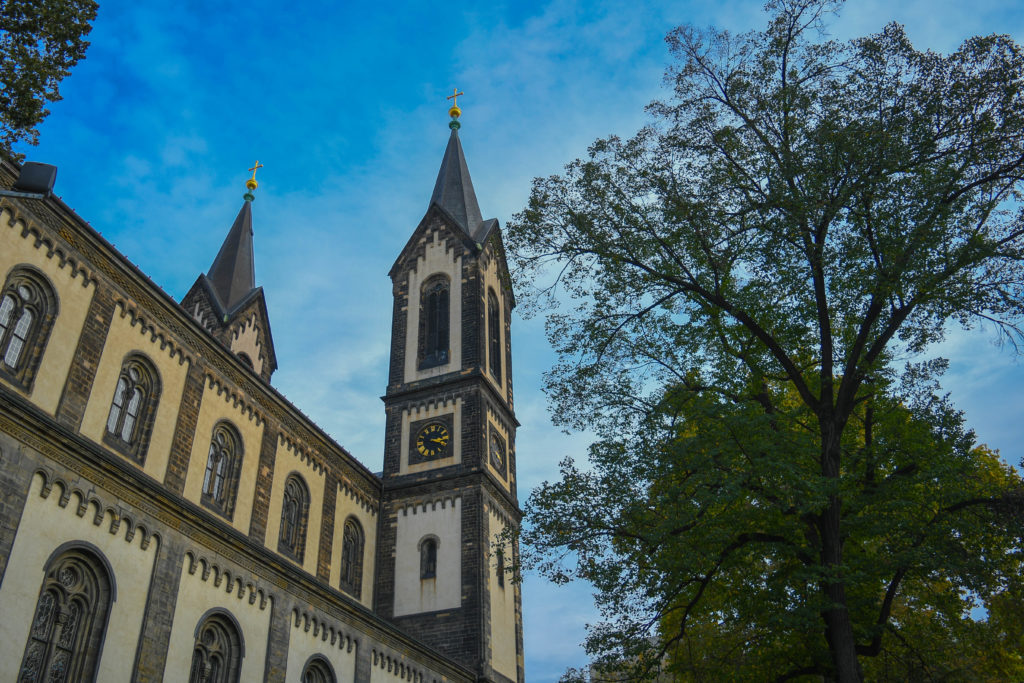 Speaking of the Zizkov tunnel, not too far from the exit on the Karlin side, you'll find a beautiful church that I'm just about to look up on Google Maps because I've honestly never learned its name. Aha! It's called 'Kostel sv. Cyrila a Metodeje' or Church of Sains and Cyril and Methodius. A brick structure built in 1863, it features a Neo-Romanesque style with two towers.
There are a lot of churches that I haven't visited in Prague so I don't know exactly how this one stacks up, but since one of my weeks of TEFL teacher training took place in a building just across the street, I spent a lot of time marvelling at this one. The inside is also quite pretty with colourful stained glass windows, and unlike going to the Cathedral at Prague Castle, there's a good chance you'll be able to take this church in without any other tourists in your way.
3. The orchard area near the castle with the nice view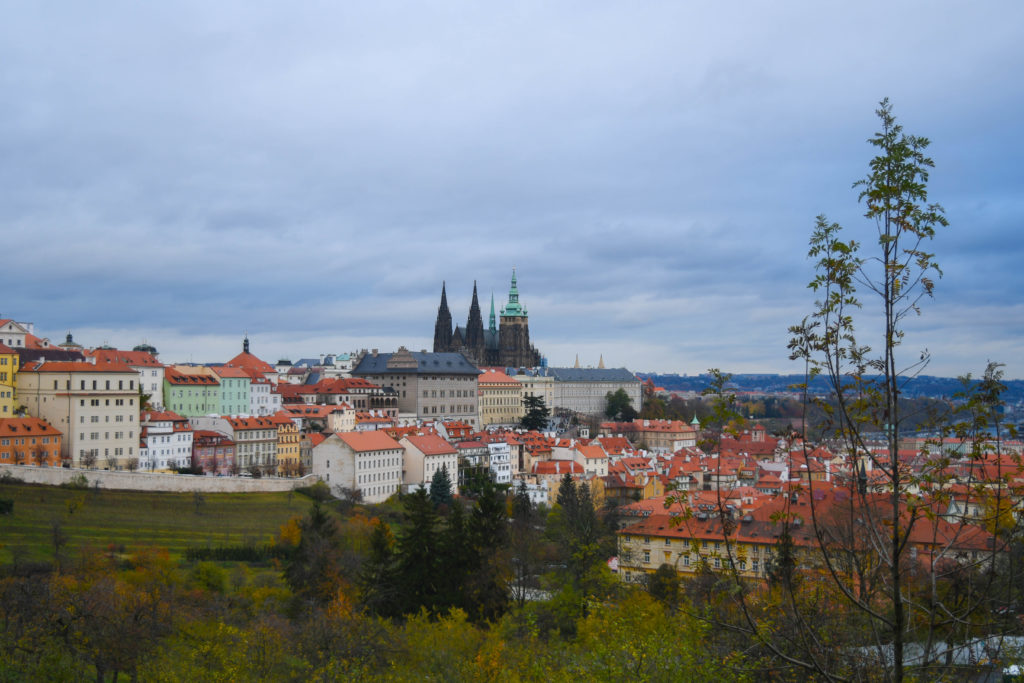 So I think this place is called Chotkovy Sady, but I'm not completely sure. Anyway, it is a very nice uphill walk and will take you only a few blocks away from the Prague Castle area. It's a perfect location to take photos with a backdrop of the colourful city and it also isn't too crowded.
If you want to get a little exercise and bask in some amazing views, this park is worth a visit!
4.The big park where I watched these ducks fight with seagulls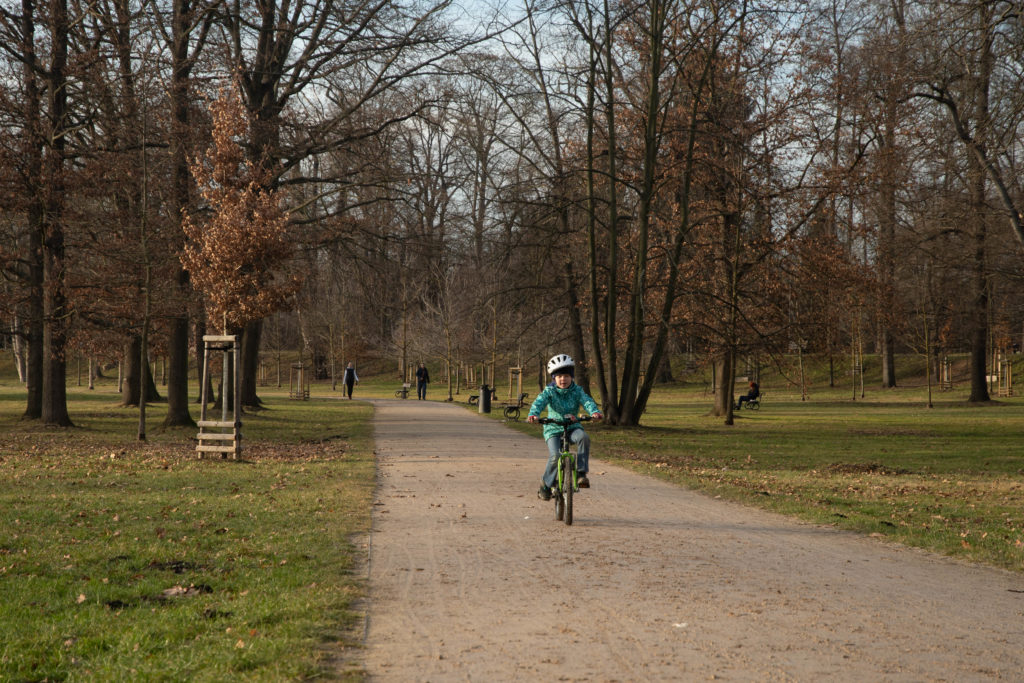 I've recommended this park to a few people and I always have to go scroll through an old Instagram conversation to check the name. I don't know why it hasn't stuck with me yet, since it's the biggest park in Prague, but it's called Stromovka. With a bunch of ponds and bridges, surrounded by some fancy important buildings and houses, it's a calming, enjoyable place to take a stroll or just hang out.
A friend and I spent a considerable amount of time there earlier this month taking photos at the duck pond where a couple of people were tossing bread, initiating absolute chaos when the ducks would chase it, but not be able to swallow it, and then seagulls would swoop in and steal it. Truly an entertaining show like no other.
5. The park with the big metronome sculpture that replaced a big statue of Stalin and a lot of people go up and skateboard there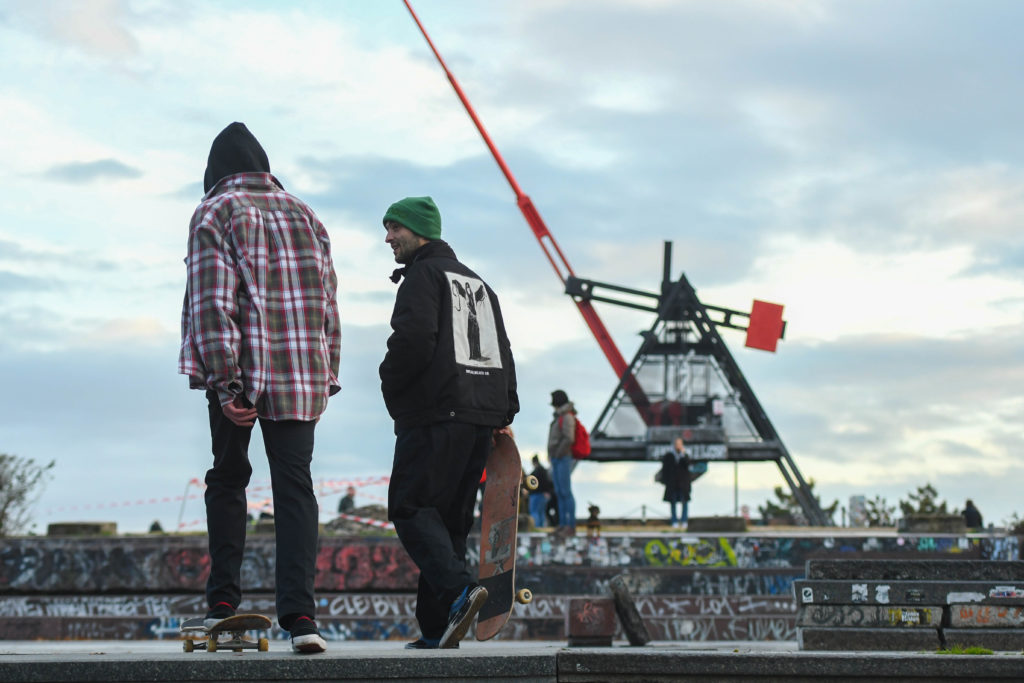 Okay, I actually know that this is Letná Park and I haven't forgotten the name in a long time, but it's just too great not to include it. The big metronome is pretty awesome, even though I've never seen it in action (I guess it's supposed to move, apparently?), but this whole place is beautiful. 
Not only is it a haven for watching large groups of dogs frolic and play, but just outside of the gates is one of the only places that I've seen a street cat in the entire time I've been here. There's also been a pretty damn picturesque ice rink set up for the winter at the far end away from the hill.
*I also visited Bohemian Switzerland national park over the weekend and had a layover in London a few weeks ago, so here are some photos of what other things I've been up to.*