SFU's women's basketball team kicked off the new year with some fireworks as they put up 74 points and defeated Montana State University Billings (MSUB) by a single point in a home game.
Although the Clan had a comfortable lead heading into the second half, the Yellowjackets were resilient, overtaking them to grab a five point lead with less than four minutes to go.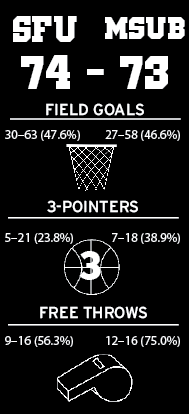 SFU fought back hard and managed to regain their lead with only 1.7 seconds left on the clock, thanks to a Samantha Beauchamp layup off a superb dish from sophomore point guard Ellen Kett. 
"It was a good team effort, and everybody was clicking at different moments of the game," explained Erin Chambers, who once again led the charge offensively for SFU with 22 points. "It was a good start to the new year."
Chambers, who is averaging a GNAC-leading 24.7 points per outing this season, was a big part of the Clan's comeback, as she converted on a crucial three-point play when the team was down 71–67 to bring them within one.
"[MSUB] is always a hard team," Chambers told The Peak, adding that she was not surprised the game ended up coming down to the wire. "I knew it was going to be a battle from the get-go."
The matchup certainly was not without firepower, as Chambers was joined by both the number two and number three scorers in the conference, MSUB's Kayleen Goggins, who led her team with 25 points, and Alisha Breen, who had a disappointing performance with only 9 points.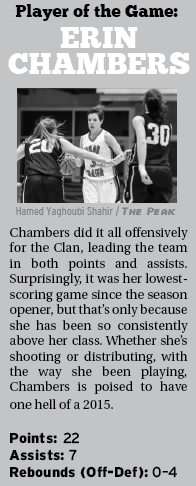 For the Clan, senior guard Katie Lowen impressed early with four three-pointers in the first half before cooling down in the second and ending the game 4–9 from deep. Beauchamp, on the other hand, was 5–5 from the field and also dominated defensively with a team-best four blocks.
The win moved SFU to a perfect 2–0 record in GNAC play and 6–4 overall. Chambers noted that the their performance was definitely a good sign for the year to come.
"We always want to be the hardest working team," Chambers explained of any 'resolutions' for 2015. "We just want to keep pushing through as our season is starting off."