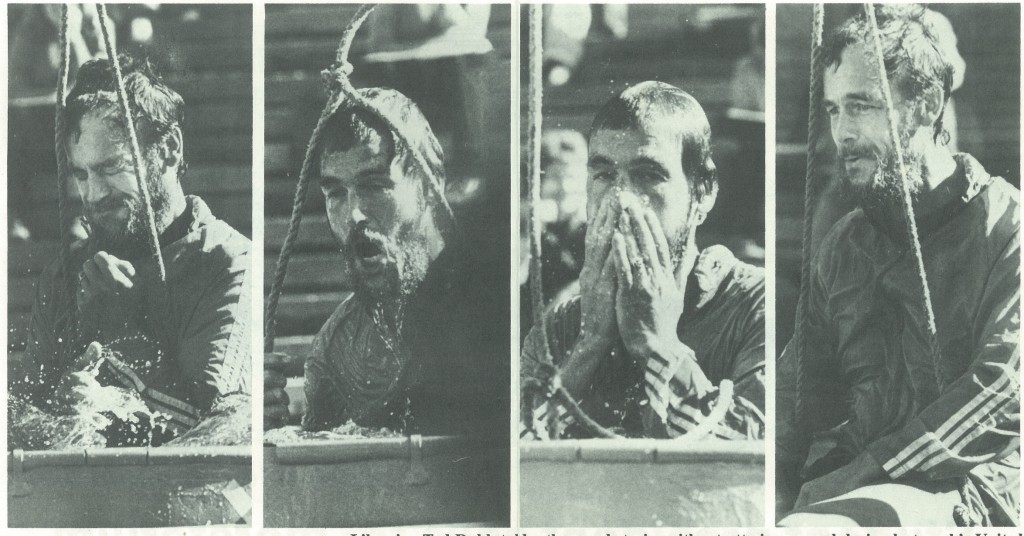 A few weeks ago, SFU lost one of the most important and beloved people to ever grace our campus. Ted Dobb, the longest-serving head librarian in our school's history, passed away in Vancouver on February 13th at the age of 79.
During his 20-year career (1978–1998), Dobb was responsible for a great deal of innovation at SFU, including overseeing the opening of the Belzberg Library at Harbour Centre and creating an online catalogue for the library that the Georgia Straight praised as "intricate and useful."
He was more than just a brilliant librarian, however — Dobb was also a short story writer, a marathon runner, a gifted raconteur, a violinist, a generous soul, and a devoted and loving husband, father, and grandfather. He left a great impact wherever he went, and SFU was lucky enough to have been one of his favourite communities.
Born in Petrolia, Ontario, in 1935, Dobb moved to Quesnel, BC at the age of 12, where he grew up on a farm and helped run the family's sawmill business. His early life clearly instilled a strong work ethic in Dobb, and by the time he became SFU's librarian in 1978 he had already held 27 part-time jobs, including everything from amateur wrestler to logger to garbage collector.
Despite his hard-working rural upbringing, Dobb had a passion for academia and left Quesnel following his high school graduation to study English at the University of British Columbia.
"He was extremely well read," his daughter Laura Dobb told The Peak. "He'd read all the classics at school at UBC but he also went way farther than that in all directions — science and esoteric reading. He was a Renaissance man, I think."
After graduating from university and completing UBC's Library Studies Program, Dobb began work for The Union Steamship Company on longboats travelling to and from Bowen Island and was also a lay preacher at the Bowen Island United Church. Although he briefly considered a life in the ministry, Dobb couldn't stay away from the library world.
Following stints with the Vancouver and Victoria Public Libraries, Dobb joined SFU two month prior to the school's opening in September of 1965. Starting as government publications librarian, he advanced through a number of positions before finally being named head librarian in 1978, a job to which he gave his heart and soul.
"He had ingenuity [and] was future-thinking," Laura explained, referring to Dobb's instrumental part in digitizing the library. "He donated lots of his own books to the library, lots of first editions. He was passionate about learning and libraries."
In almost all respects, Dobb's personality made him the perfect librarian. His daughter described him as not only intellectually superior, but also incredibly organized — key attributes for a man at the helm of a library.
"His desk and credenza were just immaculate, he was on top of everything," she recalled. "He didn't lose a strand."
Perhaps Dobb's most amazing trait, however, was his incredible loyalty. Even though SFU was a relatively young school with limited financial resources and the Bennett Library's collection constantly suffered in comparison with the size of collections at other universities, he never once considered leaving the school.
"He was given offers. He'd go to an interview in Boston [for] Harvard. All the Ivy League colleges in the States were after him," Laura explained. "[His wife] would ask him, 'where are we going?' And he'd say 'no, I'm staying with SFU.'
"She was so pissed off," she continued with a laugh. "He didn't have wanderlust. He was really into mastery, really making what you do professional and beautiful and thorough. He was impeccable in his word and his work."
And he certainly was a master. Under his leadership, SFU's library system earned acclaim for its emphasis on providing a high quality collection rendered extraordinarily accessible through innovative technologies and service-oriented staff.
Although he was often confronted with difficulties in his position — budget cuts in particular were a constant struggle — Dobb always did what he believed was best for the school.
He even fought censorship in 1982 when he refused to pull Playboy from the library's stands after receiving pressure from certain members of the student body to do so.
While this decision may have played into his popularity with a large number of students, Dobb's demeanor as a whole earned him the respect of the entire SFU community long before he became head librarian.
"He'd go running after work, and then he'd go to the SFU pub and he'd be reading with his half glasses on and his pint, and students would come up to him," Laura explained. "He'd have great debates with students, he wasn't fond of going to the faculty club. He was a down-to-earth guy, and he knew all the people who worked everywhere.
"I used to go shopping with him at Woodward's food farm, and he knew everyone's name, every shop he went into," she continued. "He was like the King of Kensington! Everywhere he went, he knew everyone."
This attitude wasn't limited to the SFU community, either; the incredible range of connections Dobb held across Vancouver is something his daughter is still discovering.
"I know there were people he talked to around Robson Street that were homeless," Laura said. "[Since his passing] I've been getting Facebook messages from people around that area [. . .] he had many facets to his personality that way."
While Dobb's achievements at the SFU library could probably fill an entire book and his amazing list of hobbies could probably fill another one, above all else it was Dobb's character that made him the man he was.
The SFU community is extremely fortunate to have had him as a part of our community. While students on campus today may never have had a chance to meet him, he touched a number of lives at our school and across the Greater Vancouver area.
Plus, how could you not love a guy who chose us over Harvard?